The Building is built. Construction Period:
2012–2016.
THE NEW PLACE ON THE MAP OF THE KARKASHADZE HOUSES
2 Frantsuzsky Boulevard is the new house with the name board "Karkashadze House" on a facade. As well as all the rest of the "Karkashadze Houses", it was built of red effective ceramic bricks with use only of the most qualitative and environmental-friendly materials. And, of course, this house wasbuilt according to all numerous principles of our company. Nevertheless, we want to pay your attention at some special features of this house.
We increased the square of apartmentsglazing owing to panoramic windows of natural wood (eurobar) with two-chamber energy saving double-glazed windows. We made halls of this house more spacious to emphasize the atmosphere of freedom and luxury.
In this house as our freshest project, all hardware starting from the individual boiler room and high-speed elevators to the access control system and video surveillance represent the equipment of the last generation of the best European producers.
Except 2 independent electricity inputs on the complex territory, we also installed the diesel-generator installation that provides functioning of all life support systems of the house. And for higher energy efficiency and environmental friendliness we installed only LED lampsin this house.
Halls, corridors and ladders of the new building were trimmed with marble, stucco mouldings, forging and wood. The facade was covered with multilayer color plaster and decorated withthe architectural molding. The 0,75 hectares of the nearest territory is also arranged well: landscaping with gardening and covering from the Austrian stone blocks. The fountain and the playground with safety covering are on the complex territory. The underground parking for 120 parking places. The territory of the house is the closed space, protected with access control and video surveillance. The house was built per theState Building Regulations "Building in Seismic regions of Ukraine" and for sure maintains seismic loading of 7 points.
Welcome to our new house! We are proud of it and if you choose it, it will also become your reason for pride absolutely precisely.
ARRANGEMENT
FRANTSUZSKY BOULEVARD
Frantsuzsky Boulevard is the place where architectural forms of the past and the present are buried in verdure of trees, and closeness of the sea and historic center make this district unique.
Aristocrats of Odessa traditionally chose area of Frantsuzsky Boulevard for the elegant country dachas.
We chose the area of Frantsuzsky Boulevard for status city housing of modern inhabitants of Odessa.
THE COMPLEX INCLUDES
58,1—62,0 m²
one-room
apartments
66—110,8 m²
two-room
apartments
121,3—139,1 m²
three-room
apartments
146,4—173,2 m²
four-room
apartments
108,9—276,8 m²
penthouses
25—440 m²
offices on the 1st and the 2nd level
50
PLACES
in the guest parking
115
PLACES
in the underground parking
0. 73
HECTARE
total area
of the complex territory
MATERIALS
BRICK
No matter how many kinds of building materials would appear, the brick will remain the best of them.
It is strong. It is hardwearing. It is moisture resistant. It is frost-resistant. It is eco-friendly. It is almost eternal.
Brick is so well-known, checked and reliable material that it became a metaphor long ago. And we will not exaggerate if we state the bricks are the cells of which the body of our every house consists. The name of our company is built of them, and we took care of that our main building material would be the best of the best.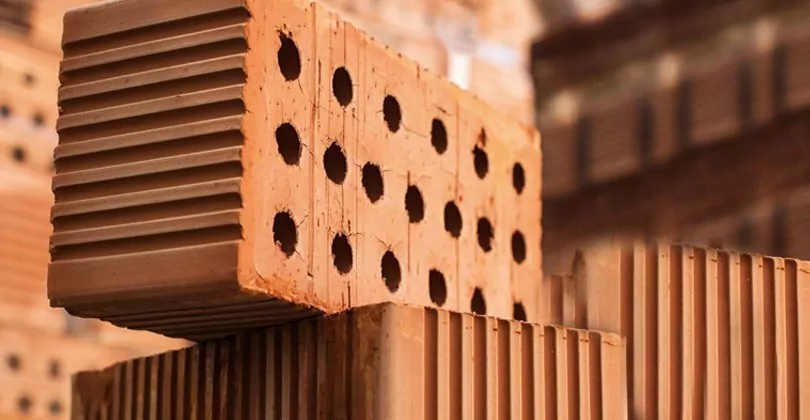 FACADE
Facades of the terrazit plaster are extremely long-living as they represent the natural stone created by human hands. And if someday, after many years, dust and rains muffle brightness and shine of this plaster, it'll take only a couple of days of the sanding device operation to restore the primary gloss of the house. The grains of sand coming out from a nozzle of the sanding device at a high speed will remove a thin layer of the soiled plaster and the primary gloss of the noble façade will be opened again.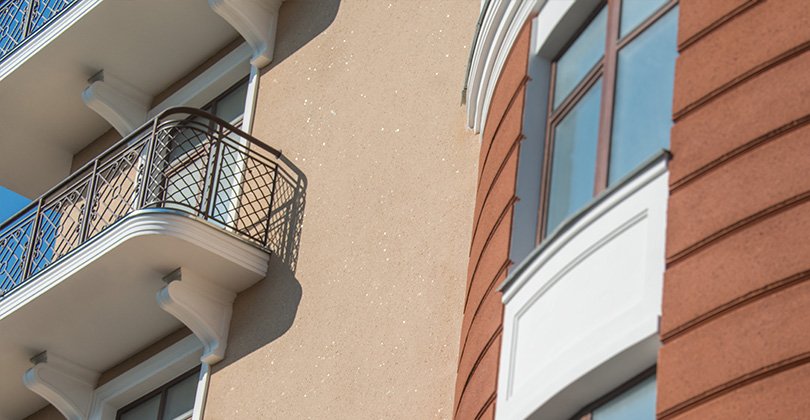 WINDOWS
Windows of the "Karkashadze Houses" are made of eurobar. This wood is processed in such a way that it is almost not subject to influence of moisture and temperature drops. Thanks to it, the wood keeps the property to create a healthy microclimate, to keep heat and silence, does not shed its form and attractive appearance over time. And, of course, our windows have energy-saving double-glazed windows that together with wooden frames give impressive results on creation of temperature and sound comfort.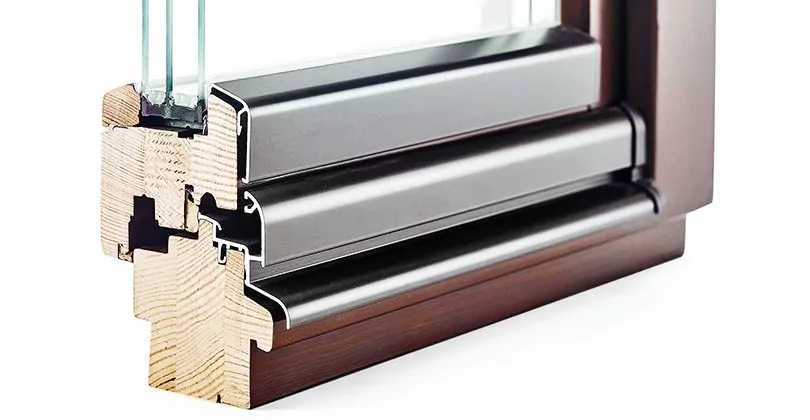 DOORS
Doors in houses are armored of the non-standard height (2,4 m) and author's design. Strong and elegant, they are supplied with the Italian lock systems. You will not want to change doors in our houses.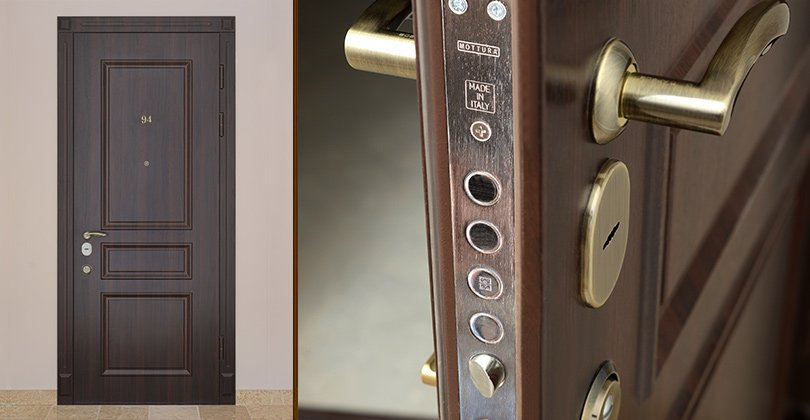 INTERIOR
Floors of halls and corridors of every floor are revetted with marble, and each ladder step on all floors is made of the integral piece of this precious material. It is the same principle of the "Karkashadze houses", as well as the graceful shod handrail with oak hand-rail on all staircases.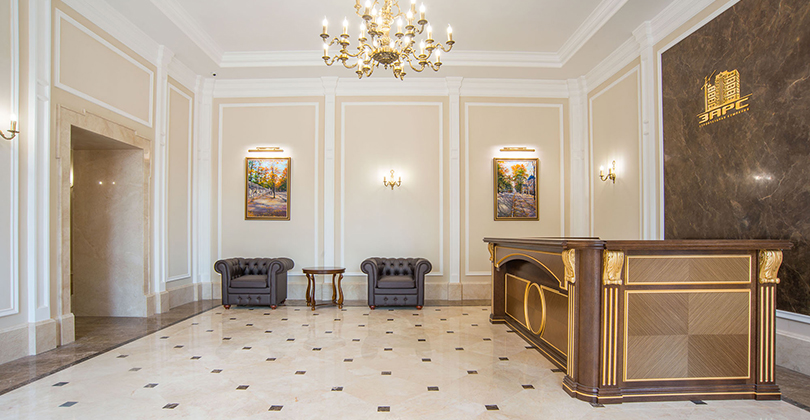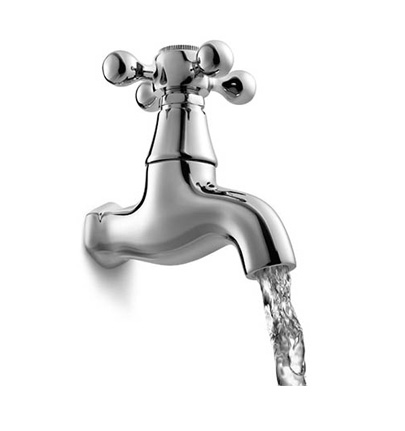 WATER SUPPLY
Thanks to integration of recirculation into a water supply system of each apartment, water is hot right after opening in your tap.
Besides, the complex for the post-treatment of drinking water is installed in the house and chemical preparation of technical water, thanks to which your radiators are reliably protected from corrosion.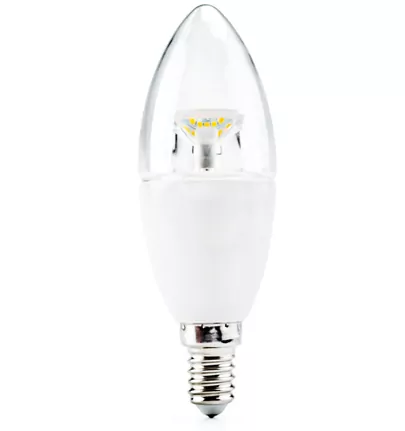 LED LIGHTING
In all public places modern LED lighting will be installed. This type of lamps considerably exceeds incandescent and energy saving lamps in all respects: low energy consumption of 5 W/hour; instant switching; absence of ultra-violet and infrared radiation, blinking, heavy metals and mercury; resistance to voltage swings (180-260V); long service life (till 100 000 hours).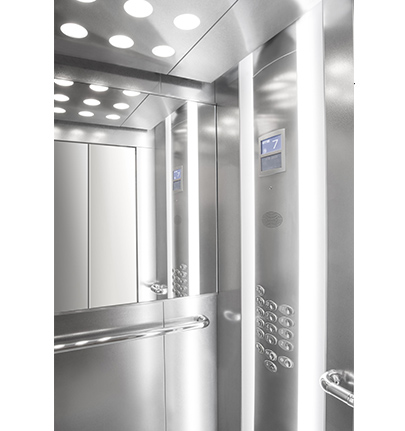 ELEVATORS
Elevators are high-speed, silent, of new generation with infrared sensors of cabin doors which exclude sudden closing of the elevator. Floors are revetted with marble in every elevator.
Totally 6 elevators: 3 cargo (1000 kg) and 3 passenger (400 kg). Produced by OTIS.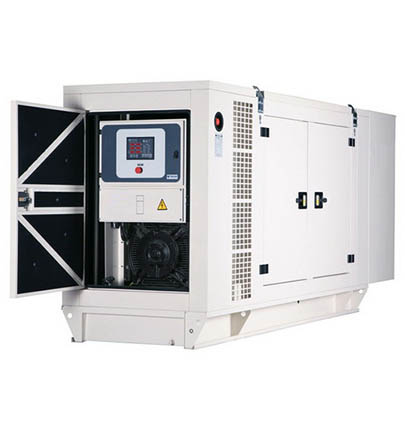 REGULAR POWER SUPPLY
Besides 2 independent electricity inputs on the complex territory, the diesel-generator installation provides functioning of all life support systems of the house including elevators, system of heating, water supply, emergency lighting, fire extinguishing, ventilation of all floors of the building and parking, video surveillance, access control.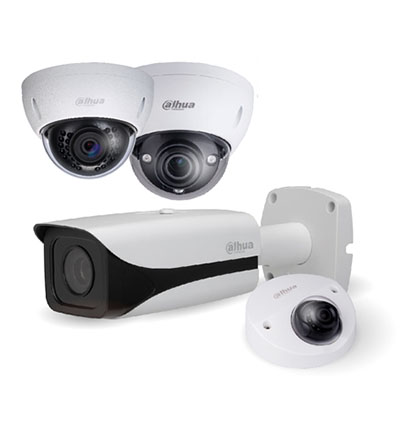 VIDEO SURVEILLANCE
120 digital Full HD video cameras (Dahua) across all territory of the complex, including outside perimeter, the yard, underground parking, halls and ladders; elevators, residential floors.
Records from video cameras are available during 2 months.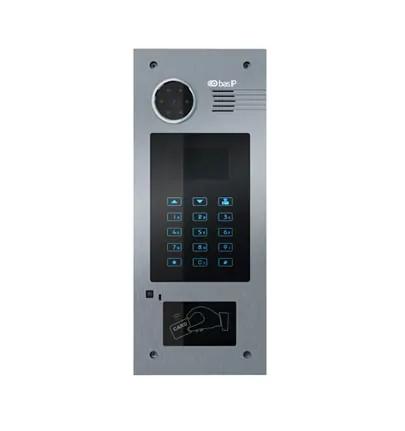 ACCESS CONTROL SYSTEM
Every front door, and entrances on the territory are equipped with modern digital on-door speakerphones with a possibility of challenge not only to the apartment or office, but also to the smartphone. All places of passes and elevators will be equipped with readers for restriction of access for strangers.
The whole access control system is protected under the Austrian protocol of enciphering Mifare.
TECHNICAL CHARACTERISTICS
640 mm
Thickness
of outside
walls
510 mm
Thickness
of interappartment
walls
120 mm
Thickness
of interroom
partitions
ALL WALLS ARE OF RED EFFECTIVE CERAMIC BRICK
4,2 m
Height of the ground floor
3,2 m
Height of the 2 -12 floors
The foundation — the pile basis, monolithic steel concrete grillage.
Elevators — silent, high-speed (OTIS).
Three-phase electricity input to the apartment.
Input of the TV cable, Internet, phone, on-door speakerphone to the apartment.
Modern system of smoke removal and fire extinguishing, fire reservoir.
High-quality limy plaster of walls.
The rest area for children and adults.
The closed, protected territory, 120 cameras of video surveillance.
Facade is of color three-layered decorative plaster with inclusion of marble crumb and mica.
Doors are armored, warmed, soundproofing.
Basement – monolithic reinforced concrete walls
Overhead covers – monolithic, reinforced concrete, 220 mm
Seismic load – all the constructions of the complex assuredly withstand earthquakes of 7-points intensity
Floor buckle – sand cement, M100, on the deafening Isolon
Power supply – transformer substation, diesel generator, automatics ETI
Radiators are aluminum, of Italian production (GLOBAL).
Heat supply is autonomous (silent roof boiler Buderus).
Parking – underground, guest
Hidden laying of the best engineering networks of heating and water supply (REHAU Rautitan Stabil)
FINISHING OF PUBLIC SPACES
Floors - marble;
Walls – moulded gypsum decor, Venetian plaster, colouring;
Cellings – colouring;
Stairs -marble;
Stairs parapets – oak handrails, forging;
Italian lamps with LED lamps;
TECHNICAL COMPLETENESS OF APPARTMENTS
Windows and balcony doors – eurowooden block with 2-chamber energy saving double-glazed windows with a different distance of the glasses placement to increase the heat and sound insulation level;
German window accessories of Gretch-Unitas;
Heating is carried out in full with installation of the Italian aluminum radiators of Global;
Pipes of cold and hot water, recirculation and heating of Rehau Rautitan Stabil;
The German silent sewerage in kitchens and bathrooms - Ostendorf SkolanDb;
Installation of hydrometers in the hall;
Lead-in of 3 phase electricity with installation of electronic counters in the hall;
Lead-in of TV, Internet, telephone, intercom cables;
Installation of fire announcers;
All interroom apertures of non-standard height - 2,4 m;
Antiskid, frost-resistant tiles on balconies;
Balcony parapets – forged handrails of author's design;
Installation of the Austrian water waste ladders of H&L on terraces and balconies;
Entrance door is armored, warmed, soundproofed of non-standard height (2,4 m), author's design with the Italian lock systems;
FINISHING OF APPARTMENTS
Partitions - red effective ceramic bricks;
Walls and apertures - cement and limy plaster;
Walls of bathrooms - cement and sand plaster;
Floors - buckle of moist cement and sand 80 mm, on heat and sound insulating blanket (ISOLON);
Floors of bathrooms – waterproofed surface;
Office
2, Frantsuzkyi boulevard, Odesa, 65012, Ukraine
Sales office Karkashadze Houses
2, Frantsuzkyi boulevard, Odesa, 65012, Ukraine
ZARS was founded on October 14, 1996 by Givi Karkashadze (1930 — 2006). Holding ZARS completes a full investment and construction cycle of its own projects, from development and construction to commissioning and management. ZARS is a harmonious team of confederates and professionals which finds new solutions for each project understanding the modern tendencies and needs of the clients.
Having refused mass building, the company ZARS creates unique projects in which esthetics, quality and comfort are the main postulates. Paying special attention at the architectural concept of each house, the company ZARS makes the contribution in keeping the uniqueness and originality of architectural style of our city.